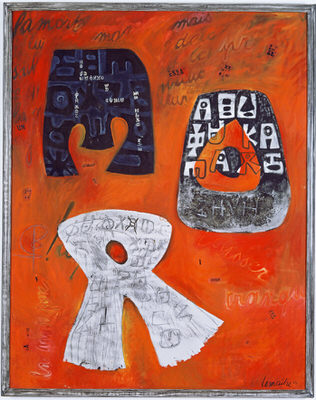 Maurice Lemaître, Slogans Héroïques, 1965
EAMC
Elke and Arno Morenz Collection

Lettrisme
Internationale Lettriste
Bauhaus Immaginista
Internationale Situationniste
Nouveau Réalisme – Affichistes
Post-War Avant-Gardes
Maurice Lemaître, Slogans Héroïques, 1965
The beginnings of the EAM Collection were laid down when Elke Morenz met Maurice Lemaître in 1962 while she was a student in Paris. He introduced her to the avant-garde in St. Germain des Prés, Montparnasse and Montmartre. Elke was quickly intrigued by the Lettrists' ideas and, after marrying Arno Morenz in 1968, they started collecting Lettrist works.
The family lived in New York, Düsseldorf, Paris, London, Hannover and Aachen, but never lost the connection to the artists. When they lived in Paris in the 1970s, their contact became closer and they took part in the meetings of the Lettrist group on the first floor of Café Lutèce on Boulevard St. Michel. During that period, the earlier artworks were largely acquired from the artists directly.
After Elke Morenz' sudden death in 2009, Arno Morenz moved the collection to Berlin in 2011 to make it accessible to a wider public and to communicate the ideas and innovations of the Lettrist and its spin-off movements. Since 2013 the collection has been open to the public upon appointment.
Today, the EAMC comprises approx. 200 works of painting, photography, sculpture, drawing, lithography, film and recorded music. It also includes a large number of books, documents, letters, exhibition catalogues, manifestos and avant-garde magazines.
Artists in the Collection