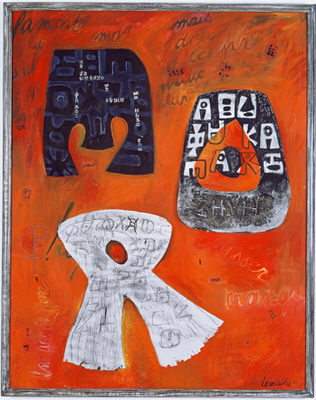 Maurice Lemaître, Slogans Héroïques, 19657
EAMC
Elke and Arno Morenz Collection
Maurice Lemaître, Slogans Héroïques, 19657
The beginnings of the EAM Collection were laid down when Elke Morenz met Maurice Lemaître in 1962 while she was a student in Paris. He introduced her to the Avant-garde in St. Germain des Prés, Montparnasse and Montmartre. Elke was quickly intrigued by the Lettrists' ideas and, after marrying Arno Morenz in 1968, they started collecting Lettrist works.
The family lived in New York, Düsseldorf, Paris, London, Hannover and Aachen, but never lost contact to the group of artists. When they lived in Paris in the 1970s, their contact became closer and they took part in the meetings of the Lettrist group on the first floor of Café Lutèce on Boulevard St. Michel. During that period, the earlier artworks were largely acquired from the artists directly.
After Elke Morenz' sudden death, Arno Morenz moved the collection to Berlin in 2011 to make it accessible to a wider public and to communicate the ideas and innovations of the Lettrist movement. Since 2013 the collection has been open to the public upon appointment.
Today, the EAMC comprises approx. 180 works of painting, photography, sculptures, drawings, lithographs, films and music recordings. It also includes a large number of documents, letters, exhibition catalogues, invitations and avant-garde magazines.
Artists in the Collection
Roberto Altmann
Jean-Louis Brau
Broutin
Henri Chopin
Jean Cocteau
Jean-Paul Curtay
Guy Debord
Francois Dufrêne
Jean-Pierre Gillard
Micheline Hachette
Raymond Hains
Raoul Hausmann
lsidore lsou
Aude Jessemin
Alain de Latour
Maurice Lemaître
André Masson
A.R. Penck
Gabriel Pomerand
Francois Poyet
Bernard Quentin
Dieter Roth
Gerhard Rühm
Roland Sabatier
Alain Satié
Jacques Spacagna
Jacques Villeglé
Charles Wilp
Gil J Wolman